Home Maintenance Checklist for Spring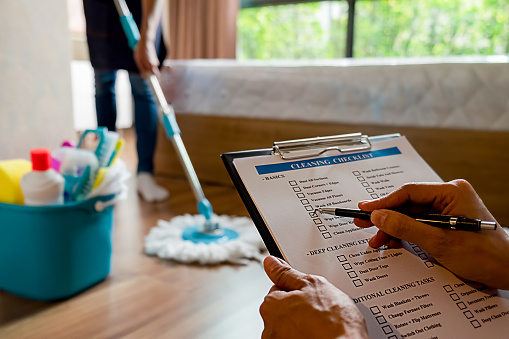 You love having a clean home but don't have the time to do the cleaning required to get it spick and span for spring. Even so, you can delight in the increased energy and feelings of joy and expectation the turn of the season generates with our friendly, impeccable assistance. Get in touch if you don't have the time to tick off the seemingly endless items on your home maintenance checklist for spring.
Deluxe Spring Cleaning
We continuously train all our technicians in the Perfect Maintenance Cleaning(PMC) method and use the finest existing eco-friendly cleaning products. We remove dust, dirt, and germs from hard-to-reach places such as cabinet tops, ledges, and light fixtures during our first-time Deluxe Spring Cleaning.
We take extra care when vacuuming the carpets, underneath chair cushions and couches, and mop the floors. We also spray, wipe, buff counters, tables, and cabinet exteriors. The faucets and showerheads in your bathroom will sparkle, and your kitchen appliances will get their luster back. You won't find any fingerprints and smudges on your doorframes nor bugs and cobwebs on the screens and windowsills. Talk to us about services that do not appear on our spring cleaning checklist in advance to find out what else we can do to assist at an additional charge.
Routine Weekly or Bi-Weekly Maintenance Cleaning
Why not keep your home in terrific shape after the initial cleaning with our regular domestic service? After we remove the old dirt and bring your living space up to maintenance level, our staff can help maintain a healthy, pleasant home environment for you.
Our cleaners have a cheerful outlook and work hard to keep your home in excellent shape. Our service includes progressively taking care of rotational tasks at your request. We can match you with the same professional when you use our scheduled service, which means you will eventually get to know each other.
Get a quote from San Diego's favorite house cleaning company. We work according to a comprehensive home maintenance checklist for spring that frees you to focus on what is foremost in your career and personal life. We will gladly answer all your questions and help you decide on the type of service that will best suit your needs if you reach out to us.