Cleaning Service Pillars
Green Frog House Cleaning Service Is Based On These 3 Pillars
Quality
From the first time we clean your home you will notice that our Technicians and Products operate at a very high quality standard. We are different from other house cleaning companies. Each Technician that makes it though our rigorous screening process is hired based on several core qualities. Then each Technician is trained in our intensive house cleaning services and maintenance education program. Well trained employees, not independent contractors and the best products available. Perfect quality housekeeping services, guaranteed.
On Time
Your time is valuable. An on time house cleaning service in San Diego? "Impossible", you may say. When we say we will be at your home within our arrival window, we mean it. Have you ever found yourself wondering "are there any quality house cleaning services near me?". We use industry leading scheduling software to make sure that you know when we're coming and that we show up as promised. You'll even get a reminder a few days before your cleaning service. Say goodbye to no-shows and missed appointments.
Friendly
You work hard, you deserve friendly service. Nothing gives us more happiness than giving you the gift of time, and it shows! Special requests, no problem! It doesn't matter if professional cleaners have perfect quality service and products, and arrive on time, if they are grumpy while they work. We are San Diego house cleaners with a smile.
Real Simple Tips
Join our newsletter and get new tips and tricks to keep your home clean and organized.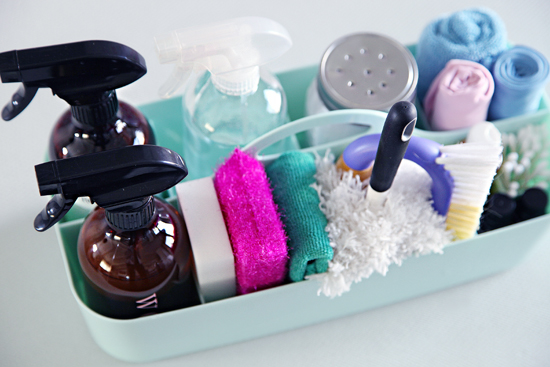 Professional house cleaners know that for many people when it comes to cleaning supplies more is better. They keep a variety of different products and each may serve a very specific purpose. There is a better way. Putting together a cleaning caddy with a few basic items can make your cleaning faster and easier. This […]
Green Frog House Cleaning aims to be the highest quality house cleaning service in San Diego among residential cleaning services.
Marina and Yasmin did a great job. I have lots of art objects and all were carefully dusted and replaced exactly correctly. I was very pleased that nothing was broken.
- Connie C
I was very pleased with this company's quick response to my phone call inquiry regarding cleaning my parents home at a last minutes notice. They did an excellent job, and didn't want to leave anything or room unclean even if would take more time. I would definitely recommend them
- Kathleen N
Natasha and Yasmin were on time and did an amazing job. They cleaned my bathroom and kitchen and were very thorough! Thank you, ladies!!
- Christopher Glenon